Recently, I was contacted on Facebook by a guy called Andrew, who wanted to know when the new David Stirling figure is coming out. People asking me about release dates for new miniatures is, of course, nothing unusual. However, what was unusual was when he explained that he is a British army veteran who works with other veterans with mental health issues at a center in Llanelli in Wales. Besides being a telephone buddy for them, he teaches figure painting as a form of therapy.
This grabbed my attention immediately and I wanted to know more.
Andrew was happy to explain further that he has been using figure painting as a way of coping with his own issues for the last ten years  and that he now classes runs for 2 hours every week for other veterans. He told me that he has up to 12 veterans attending every week and he told me how the idea started and how it has progressed since the beginning: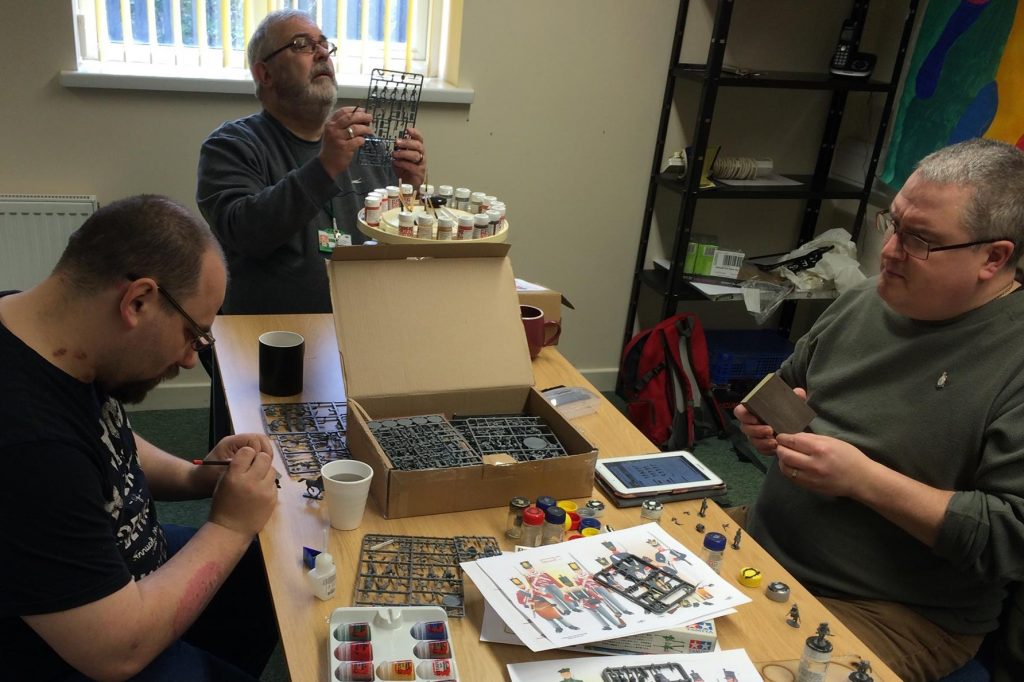 "Combined Forces started about 2 and half years ago working with Veterans in the West Wales area with mental health issues. I got involved about two years ago after I suffered a mental health crisis. They have done so much for me that when just under a year ago I was asked if I would like to run a figure painting course for other veterans. I jumped at the chance and got in touch with Warlord Games and Foundry Miniatures to see if they would support the project. Both companies liked the idea and Warlord Games donated a large box of plastic sprues with figures from across there ranges and Foundry Miniatures supplied us with paints. Since then other companies have joined us supplying workstations, miniatures and even a grassland gaming mat from Tinywargames to allow us to take the next step and game with the figures. We have a mixed bunch attending from all three services, both sexes and all ages and we try to accommodate all and get a figure they want to try to paint. We have had soldiers from across the ages, fairies, witches and even the odd Welsh Dragon. I let each person chose their figure and have a go at painting, I then sit with them and look at how they have done and then try to teach them how to improve on the skills they have rather than trying to shoe horn them into a style. We are doing so well that I have been asked to run a second class at a different venue."
He also sent me some additional information that I would like to share here: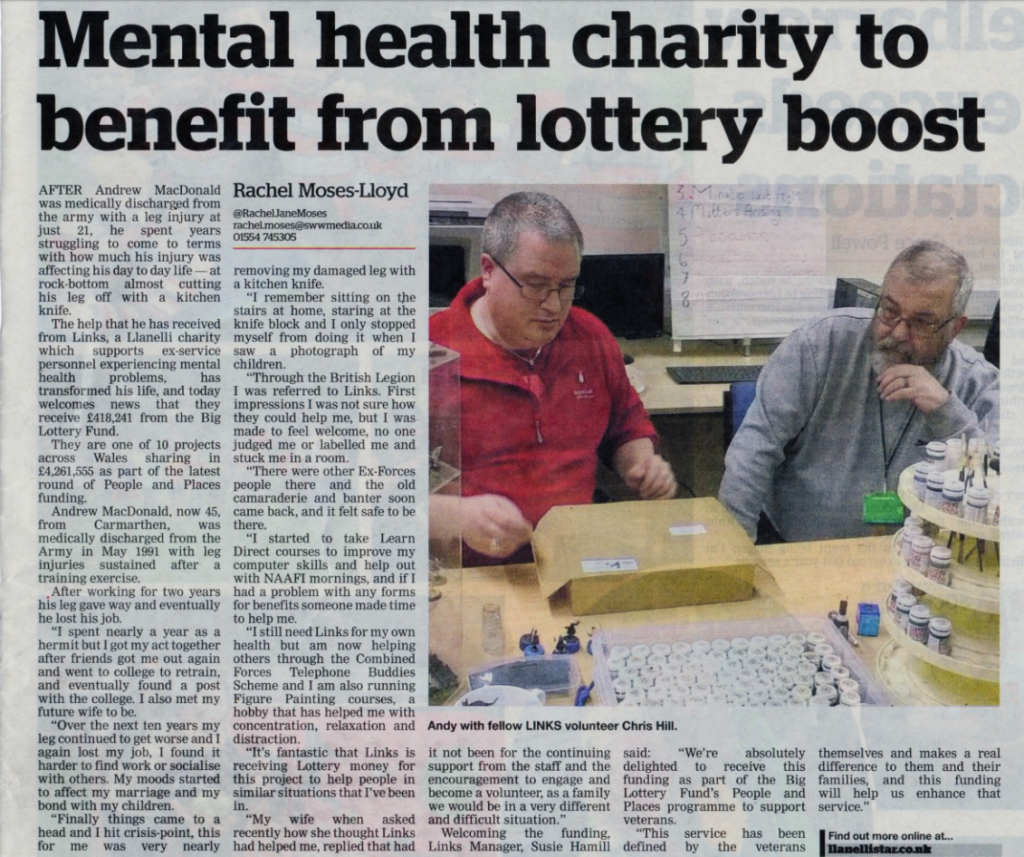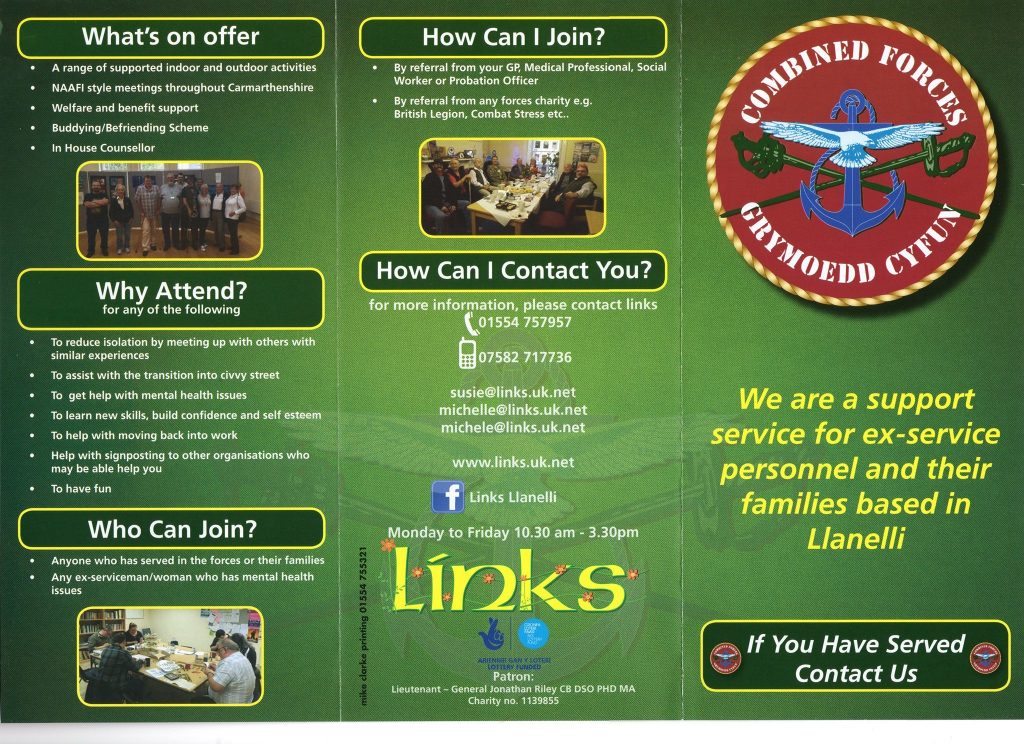 I have to say I am very impressed by what Andrew is doing and also by the support that he has already received from Warlord Games, Foundry Miniatures and Tinywargames. Kudos to all of them as this is a very important cause!
Just very recently a friend here in Germany told me about his experiences going into Afghanistan with the German Army and also about his experiences coming back home. From the stories that he told me I got a much better understanding for how tough it is for many veterans and how they face a second, much harder battle after returning from a war zone: The battle against the demons that follow them home and which no one but them can see.
They all have my deepest respect.
It goes without saying that I immediately offered Andrew to send him some of our new stuff once it is available and I hope that other hobby vendors will follow:
So if you are in the miniature business, I'd ask you to consider supporting Andrew and his group. Alternatively, find out if there is something similar happening in your country or your area that you can support.
I feel that this is really important in a world where tons of money and resources are spent to turn soldiers into veterans, but way to little is done to make sure they are being taken care of when they need help.
UPDATE: One of our community members, Kristof Nijs, liked what these guys are doing so much, that he decided to sponsor a hero miniature and donate it to them. What an awesome idea, Kristof! 🙂
Here is how you can participate too:
Each purchased option equals one free Stoessi's Heroes figure for Andy and his painting group. 
I have a nice little surprise for everyone who decides to become a sponsor… special Stoessi's Heroes Store Status… It's really cool… you'll get a 25% discount voucher for our online store.
Also, for every three sponsored miniatures from the community, I will throw in one more for free!!
Cheers!
Let's close this post by showcasing some of Andy's really nice work: