So, let's talk about the two "mystery miniatures" from my last workbench-update post.
One of them is a test cast of Captain Winters and I think it's looking quite good actually. A friend of mine pointed out that he looks a bit like the former German Chancellor Gerhard Schröder.
So here he is then…. Gerhard Schröder acting as Damian Lewis acting as Dick Winters: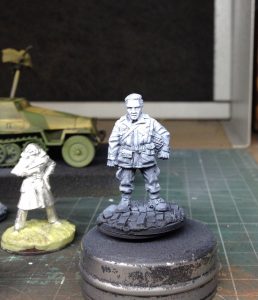 The guy in the background is a really cool sculpt that some friends of mine produced for the Partisan Con in 2014 in Mannheim, Germany. I like this sculpt by Mark Copplestone so much, that I decided to make him a Stoessi's Heroes Special Guest and to come up with a story for him to make him a true member of the team.
Please meet Russian Partisan Leader Grigori Jefimowitsch, Codename: Rasputin. 
Grigory is a purely fictional character so he doesn't really fit the bill for our category historical heroes. He also isn't inspired by any movie or TV show, so he's really completely made up and never existed. But if he had, I'm sure he would  have been tough as nails and he'd have his own entry on http://www.badassoftheweek.com/. The story about him would probably involve lots of conspirational meetings, sneaky sabotage and deadly encounters with German patrols (deadly for the Germans of course). 
Grigori will soon be available via our shop and via our resellers.
In the meantime, join the Stoessi's Heroes group on Facebook and possibly also our Facebook page, so that you don't miss any announcements for new releases.