Guarnere enlisted in the U.S. Army on 31 August 1942 and was placed in Easy Company, 2nd Battalion, 506th Parachute Infantry Regiment, 101st Airborne Division, in the Mortar Squad of 2nd Platoon.
He went through rough training at Camp Toccoa, Georgia under Captain Herbert Sobel. After training at Camp Mackall, he and the 101st went to Aldbourne, England to train further and await the Normandy invasion. At Aldbourne, Guarnere was among the NCOs who mutinied against Sobel due to his ineptness in tactical leadership. For this, he and the other NCOs were upbraided by Colonel Robert F. Sink, commander of the 506th.
In Upottery, England, the night before the invasion of Normandy, Guarnere found out his brother had been killed at Monte Casino, Italy. He made the parachute drop on D-day, was separated from his company, and later successfully regrouped with the rest of the company. The unit encountered a German patrol and ambushed it, affording Guarnere his revenge for the loss of his brother at Monte Casino.
Guarnere fought in Operation Market Garden. He helped drag wounded Lt. Compton to safety at the town of Nuenen and later gathered a group of men to find the missing "Bull" Randleman. While taking a joyride on a stolen motorcycle, Guarnere was hit in the leg by a sniper. He went AWOL from the hospital to get back to Easy Company, was caught and was going to be busted to Private, but the court martial papers were lost. He told them he would keep going AWOL until he was allowed to return.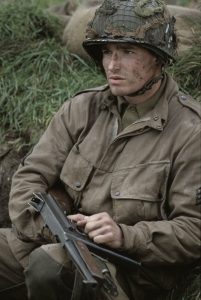 Guarnere returned to Easy Company was again made Staff Sergeant, fighting at the Battle of the Bulge. At Bastogne, Joe Toye had his leg blasted off and Bill tried dragging him to safety, only to have his own leg mangled in a subsequent shell attack. As they were taking him away, he said to Joe Toye "…I told you I'd beat you back to the States". His leg was amputated and he received the Purple Heart. He was then discharged and went home.
Sources
https://en.wikipedia.org/wiki/William_Guarnere
http://wikiofbrothers.wikia.com/wiki/StSgt._William_Guarnere
https://www.warhistoryonline.com/war-articles/life-legacy-wild-bill.html
Here are some interesting videos on Youtube, including one where Bill Guarnere returns to Brecourt Manor many years after the war:
Check out our version of Wild Bill Guarnere: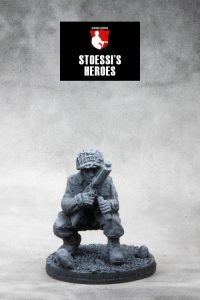 In the meantime, join the Stoessi's Heroes group on Facebook and possibly also our Facebook page, so that you don't miss any announcements.