Hauptmann Friedrich Konrad Winkler was the Kompanieführer (Company Commander) of the 6. Kompanie / Grenadier-Regiment 577 during the battles at Barrikady Gun Factory in Stalingrad. In January 1943, his regiment was destroyed. Winkler was captured in February and he died shortly after his capture, at the age of 34 in POW camp Beketowka.
In the image below you can clearly see that he was wearing a broken Infantry Assault Badge. Breaking the assault badge was commonly done by the Stalingrad veterans as an indication that earning the assault badge in Stalingrad was a different level of achievement than earning it somewhere else.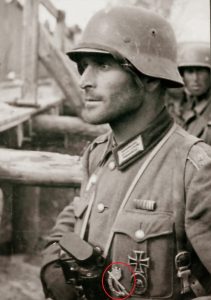 Read the full story about Friedrich Winkler here: http://argunners.com/story-behind-famous-stalingrad-photograph/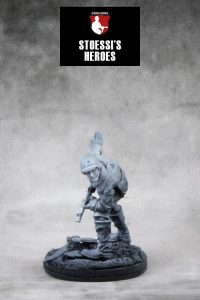 Friedrich is one of two miniatures that we are creating for Huzzah Con in the US and their Battle of Stalingrad theme for 2017. They will be first launched at the event and will become available afterwards in our online store and at our resellers. 
In the meantime, join the Stoessi's Heroes group on Facebook and possibly also our Facebook page, so that you don't miss any announcements for new releases. Also don't forget to check out Huzzah Con's Facebook page.