After having posted most of these pictures here and there on Facebook and Instagram already, I thought it be nice to basically compile all the stuff that I have been working on during the past few weeks. I definitely have a productive phase right now. Let's hope this doesn't change anytime soon. 🙂
I painted this German long coat from Artizan Designs in a color combination consisting of Model Color Bronze Green as the base, Blue Grey Pale for highlights and black for shadow colors. Very different, but also very nice result compared to my standard recipe which is Model Color German Fieldgrey as base, Sunny Skintone & Dark Sand as highlights and black for shadows.
Oddball from Studio Miniatures. Such a lovely figure. 🙂 Had an absolute blast painting him.
Donny Drumpf v2 was started during a small painting workshop that I ran at the Ad Arma wargames club in Germany. I am not sure that this is going to be a historically accurate paint job, but I like where it is going. The colors on the back of the jacket work really well I think. The shirt might still be a bit over the top in terms of the green… let's see.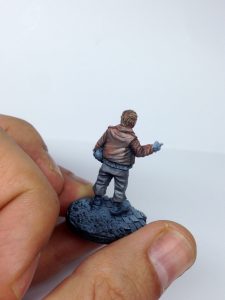 One more WIP project is this Rubicon Tiger which I definitely need once my casts of the Kurt Knispel miniature become available. So far, I have applied a dark yellow base color with a bit of modulation and camo stripes. Not really done yet with this step. I think I will make some of the brown and green stripes broader.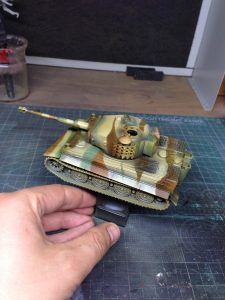 Lastly, I have gotten myself a set of laser-cut MDF templates for spraying my logo on anything… for example like on this metal case that I use as a transport box for miniatures with magnetized bases.
I consider myself a bit like the Banksy of miniature wargaming now. 😉 Right… back to my workbench.