Technician Fourth Grade George Luz, Sr. was a non-commissioned officer with Easy Company, 2nd Battalion, 506th Parachute Infantry Regiment, in the 101st Airborne Division during World War II.
George Luz had a knack for causing trouble with his sense of humor, and his ability to imitate just about anyone. During a training exercise in England, Luz did an impression of one of the Regimental staff officers to Easy Company Commander Herbert Sobel, fooling him into cutting an English farmer's fence and letting loose a herd of cows.
Luz jumped into Normandy on 6 June 1944. Because he thought he would never manage to get out of the plane (he was 5th in the stick), he asked Roy Cobb to exchange seats, as he would jump out of his stick earlier this way. There was heavy flak; Cobb was hit and couldn't jump. Luz did after he had kicked out his leg bag containing his radio and other equipment. When Luz landed, he was alone and was unable to locate any of his comrades. Before his death in 1998, Luz recalled ducking behind a hedgerow for cover, looking up and seeing fellow paratroopers shot by tracer rounds.
Luz managed to regroup with his company the next day and assisted in the taking of Carentan. A few months later, Luz jumped into the Netherlands with the rest of Easy Company during Operation Market Garden. Near Christmas 1944, Luz and the rest of Easy Company participated in the Battle of the Bulge, where Luz lost several friends to German artillery. Luz is credited with keeping Easy Company morale up with his humor in dire times.
Harry F. Welsh enlisted in the army in 1942 and volunteered for the Paratroopers. He was sent to Fort Benning and was put in the 504th Infantry Regiment, 82nd Airborne Division as a sergeant. However, he would often get in fights and kept being demoted to Private. But his commanders saw leadership potential in him, and they kept on promoting him back to Sergeant. He had been busted six times. Three Officers decided to send him to OCS, since they realized he was great for the job.
Welsh jumped into Normandy on 6 June 1944 and, due to a misdrop, wasn't able to find Easy until next morning, shortly before Easy was given the task of taking Carentan. When he joined the rest of his company, Welsh was placed in charge of 1st platoon after Winters took charge of the company.
On September 1944, Welsh dropped into Holland for Operation Market Garden and remained there for the duration of the operation. After the failure of the operation, Welsh and the rest of Easy Company returned to Mourmelon-le-Grand, France to await the next assignment.
Welsh fought in Battle of Bulge where he was wounded in his right upper leg. He was reunited with E-Company while they were in Hagenau.
In the HBO miniseries Band of Brothers, Luz and Welsh fight side-by-side during the assault on Carentan: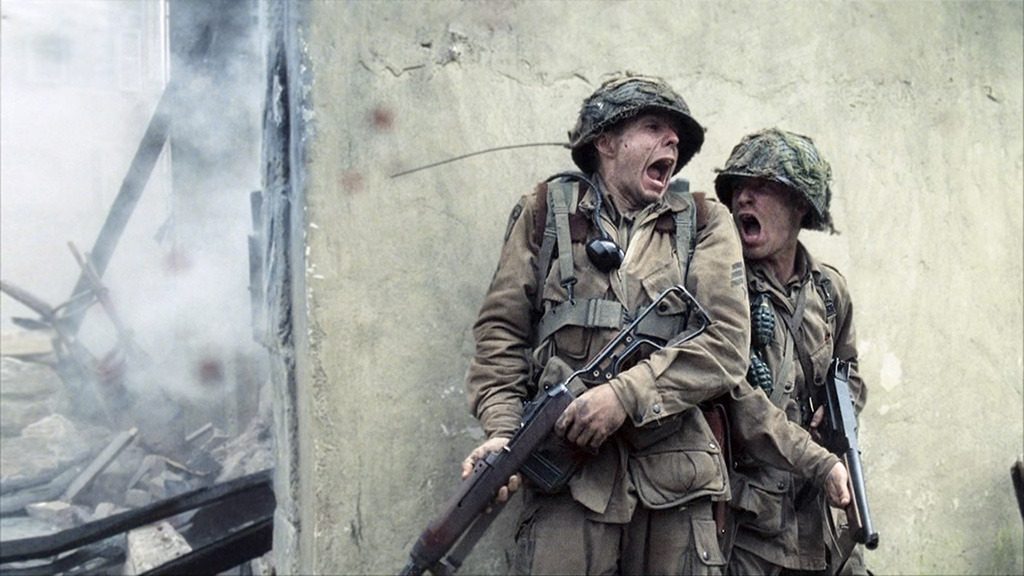 Sources:
https://ipfs.io/ipfs/QmXoypizjW3WknFiJnKLwHCnL72vedxjQkDDP1mXWo6uco/wiki/George_Luz.html
http://wikiofbrothers.wikia.com/wiki/T-4._George_Luz
https://ipfs.io/ipfs/QmXoypizjW3WknFiJnKLwHCnL72vedxjQkDDP1mXWo6uco/wiki/Harry_Welsh.html
http://wikiofbrothers.wikia.com/wiki/Harry_F._Welsh
Check out this video which is the inspiration for our version of Luz and Welsh:
Check out our version of Luz and Welsh:
In the meantime, join the Stoessi's Heroes group on Facebook and possibly also our Facebook page, so that you don't miss any announcements.