Hey folks! Here is another figure for our category "SPECIAL HEROES": German Medical Officer Angela "Mutti" Murkel 🙂
Disclaimer: Any similarities with living or dead persons is purely coincidental, of course. In case you were wondering.
"Angela is one of the most stoic, reliable and calm medical officers that the Wehrmacht has to offer. Her "We will get through this" attitude is certainly her biggest strengths when she gets confronted with any crisis situation. During her service she acquired the nickname "Mutti" (a German familiar form of "mommy") and her presence on a battlefield is known to be soothing to all other units nearby."
Uniform geeks will notice that there is something wrong with her outfit. And yes, you are right, I mixed and matched elements from different reference pictures that I liked.
Check it out here:
And always remember: If you don't want to end up like Angela, be careful with super-glue!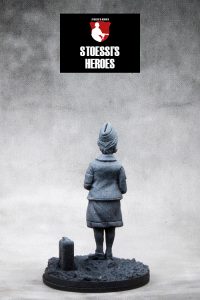 Angie is now available in our shop and via our resellers.
In the meantime, join the Stoessi's Heroes group on Facebook and possibly also our Facebook page, so that you don't miss any announcements for new releases.