Rudolf Witzig entered the history books as the heroic captor of Belgium's supposedly impregnable fortress Eben Emael in May 1940. Witzig was involved in Operation Mercury, the invasion of Crete, but was injured during the fighting. After his recovery, he was sent to Tunisia where he was credited with several successful defensive actions. He ended the war in captivity,  surrendering to the Allies on 8 May 1945, the day after his name was placed on the Honor Roll of the Luftwaffe.
In the course of his service, he was awarded the coveted Knight's Cross of the Iron Cross as  well as the Iron Cross 1st and 2nd class.
More background information that I found on the web:
Full biography of Rudolf Witzig on Traces of War: https://www.tracesofwar.com/persons/27830/Witzig-Rudolf.htm?c=aw
Good article on the attack on Eben Emael: http://www.historynet.com/hitlers-secret-attack-on-the-worlds-largest-fort.htm
I also came across this video series on Youtube, which covers a lot of interesting details about the assault on Eben Emael and the achievements of guys like Rudolf Witzig and Walter Koch:
Check out our version of Rudolf Witzig: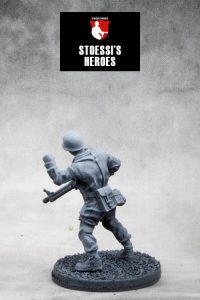 In the meantime, join the Stoessi's Heroes group on Facebook and possibly also our Facebook page, so that you don't miss any announcements.