Shortly after D-Day, a grenade blinded Léo Major in his left eye, but that did not stop him from becoming a true hero. In April 45, Leo Major was supposed to scout the city of Zwolle, but instead he proceeded to run throughout the city firing his guns, throwing grenades and making so much noise that he fooled the Germans into thinking that the Canadian Army was storming the city. He located the Gestapo HQ and set the building on fire and also destroyed the local SS HQ.
Read the full story here (Highly recommended! Really entertaining article!):
https://owlcation.com/humanities/World-War-2-History-Leo-Major-the-One-Eyed-One-Man-Army
The Miniature
Stoessi's Heroes is honoring this great (and quite mad) individual with a hero figure: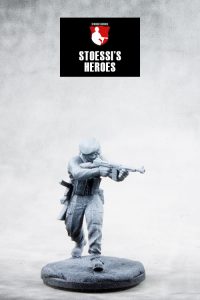 Léo Major is now available in our shop and via our resellers.
In the meantime, join the Stoessi's Heroes group on Facebook and possibly also our Facebook page, so that you don't miss any announcements for new releases.