On June 11, 1944 LtCol. Robert Cole with the 101st Airborne Division, had the objective to take Carentan. The young commander called in a smoke barrage right in front of the German positions and ordered his men to fix bayonets and charge. Many Americans were killed as they assaulted, but more than 100 of Cole's men managed to reach the German lines causing the defenders to flee. The attack would go down in history as "Cole's Charge". He won the Medal of Honor, but got killed in combat before the citation could be presented.
You can read more about Robert G. Cole and Cole's Charge here: http://militaryhistorynow.com/2014/01/17/stickin-it-to-em-the-last-of-the-great-bayonet-charges/
He also fought very hard during Operation Market Garden near Best (Netherlands). Unfortunately, during these fights he lost his life: http://www.ww2marketgarden.com/ltcolrobertgcole.html
What is really interesting is that there is original video footage where Cole and his men get interviewed about the assault on Carentan…
Check this out:
Check out our version of this brave man: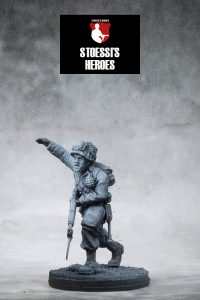 In the meantime, join the Stoessi's Heroes group on Facebook and possibly also our Facebook page, so that you don't miss any announcements.